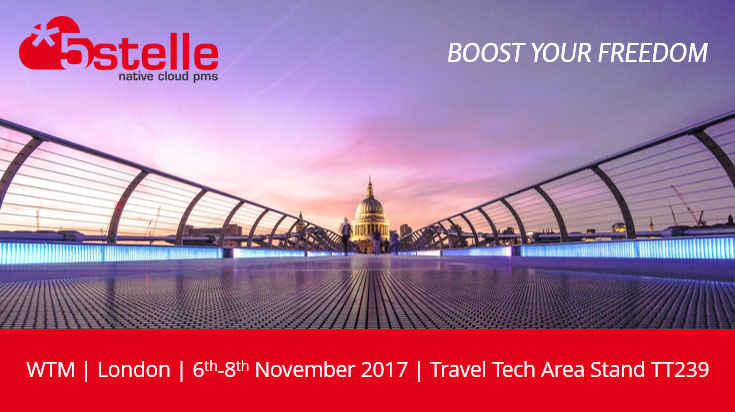 WTM 2017 – BOOST YOUR FREEDOM
In 3 words, how can we describe all the updates we are bringing to London,  if not with the ambitious promise to make a decisive change on your 'freedom of business'?
Here is a quick overview of our updates:
–PMS: new and more intuitive graphic interface for a more agile and effective management of your hotel
–Pocket PMS: strengthened all the functions, starting with the Planner. Mobile hotel management no longer has borders.
–Integrations: WebHotelier, Reservit, Fastbooking, PassportScan, and eWelcome24 are just a few the latest Hospitality software we have integrated. However, as always, our connections remain open and constantly evolving.
–SnapShot: we have joined forces to provide Hoteliers with State-of-the-Art Analytics.
But we are not stopping here, as  at our stand we will also be presenting Botierge our Intelligent Hotel Assistant, a special chatbot specifically designed to create client loyalty towards your hotel.
So, have we exaggerated? :-)
Well, if you are in doubt, come and visit us, you will not waste your time.
You will find us here, we look forward to seeing you!
WTM | London | 6th-8th November 2017 | Travel Tech Area Stand TT239
If you have already registered on the WTM website, you can schedule your appointment here or via email at info@hotelcinquestelle.cloud.