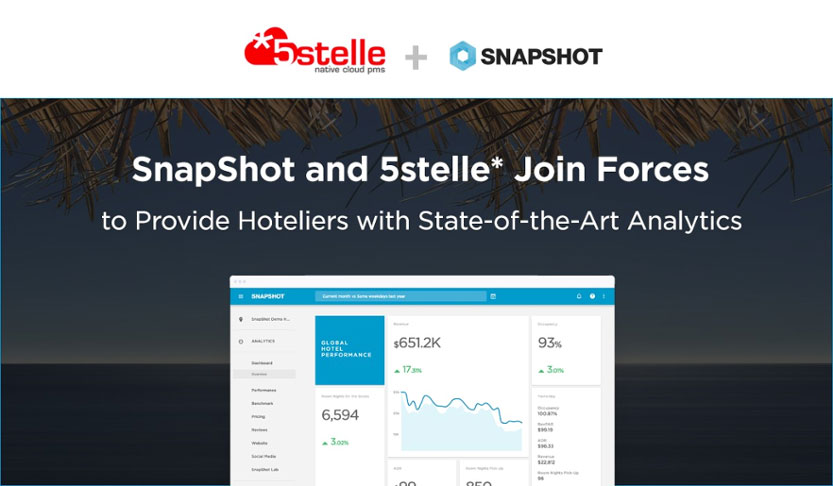 Berlin, Germany, May 5, 2017 – SnapShot, provider of fully integrated applications for the hospitality industry, and *5stelle are proud to announce a new partnership, whereby the cloud property management system's clients now have even more advanced analytics at their fingertips.
5stelle*'s clients will have access to SnapShot Analytics, a powerful tool that monitors and interprets hotel performance by examining revenue, website traffic, social media trends, and many other statistics, harnessing the full power of all data available to hoteliers. This data, updated daily, conveniently appears in a single, easy-to-understand dashboard.
One of SnapShot's first apps, Analytics, is part of the SnapShot Marketplace, a hub of cutting edge tools where developers, hoteliers and PMS companies come together. The apps within the marketplace help managers of single or multi-property hotels better run day-to-day and longer-term operations. As the apps are fully integrated, hoteliers can start collecting valuable information as soon as they sign up for their chosen products.
"We look forward to welcoming 5stelle* to our growing family of PMS providers dedicated to helping their clients achieve new levels of customer service," said David Turnbull, SnapShot's co-founder. "We are proud to provide hoteliers in 5stelle*'s network with the cutting-edge tools they need to seamlessly provide this level of guest satisfaction," Mr. Turnbull continued.
5stelle* is a fast-growing PMS provider, headquartered in Parma, Italy. 5stelle*'s PMS solutions are entirely cloud-based, allowing customers to connect anytime, anywhere and save both on hardware purchases and time.
"We are pleased to have integrated the Snapshot platform with our PMS," said Alberto Albrigi, 5stelle*'s Business Director. "This partnership offers our clients a powerful monitoring tool to help them make informed management decisions."
If you are a 5stelle* customer, activate your SnapShot Analytics dashboard now.
To find out more about SnapShot Analytics, please visit the website.
About SnapShot
Founded in 2013 in Zell-am-See, Austria, SnapShot is a hotel data company and marketplace for hotel applications, with offices in Europe, Asia Pacific and the United States. In the last 12 months, SnapShot has signed more than 3,000 hotels to its platform, as well as 40+ data partners.
The Snapshot Marketplace offers a wide range of applications from Snapshot and third party developers. These include comprehensive hotel data analytics, easy-to-use budget control tools and a user-centric hotel communication/messaging service.
Acting as a hub for application developers needing to access and work with hotel data for applications and hotels needing secure, integrated applications, SnapShot is a unique resource in the industry, allowing a fast and efficient access to technology for hotels, and a rapid and secure access to hotel data for developers. To find out more, visit www.snapshot.travel.
About 5stelle*
5stelle* is a provider of entirely cloud-based property management software. 5stelle* was launched in 2013, is present in over 20 countries and now has over 1,000 clients. 5stelle* offers a fully integrated booking system, full integration with OTAs, as well as sales and customer relationship management tools, all of which are managed using a single interface.
As 5stelle*'s solutions are cloud-based, hoteliers can stay connected to the reception desk wherever they are, simply by using a tablet or smartphone. To find out more about 5stelle*, please visit www.hotelcinquestelle.cloud.